News
Crampton's painting studio is open for Fall Open Studio Saturday and Sunday, October 14 and 15 from 11 to 6pm. Crampton plans to exhibit her newest series of large paintings featuring animals. [Click here for directions to the studio: Building 101, Studio 1223.] Crampton donated a painting to the associated art auction at Hunters Point Shipyard and to the exhibit at SOMArts Gallery. She recently exhibited in the national Juried shows at Arts Benicia and at Ube Art in Berkeley.
Since the last presidential campaign, Crampton is drawing political cartoons and found a lawyer/writer, Kat Hatz, to help her. See their cartoons on >>Facebook at Laugh about it.
Crampton's last book, Ladybird: My Eight Lives features 80 color drawings. It is a storybook which may help teach children to have emphathy toward their pets. It is available at Christopher's Books on Potrero Hill and RabbitEars in El Cerrito (where ALL proceeds go to help this animal shelter). The Easter book Dumbunny by Mary Ann Wolf and illustrated by Carolyn Crampton, is now on Kindle—for free! If you download it, please give us a review!
Crampton is a member of Daylighted.com which exhibits art digitally and sells glicées of art.
Carolyn Crampton
San Francisco
crampton@cramptonarts.com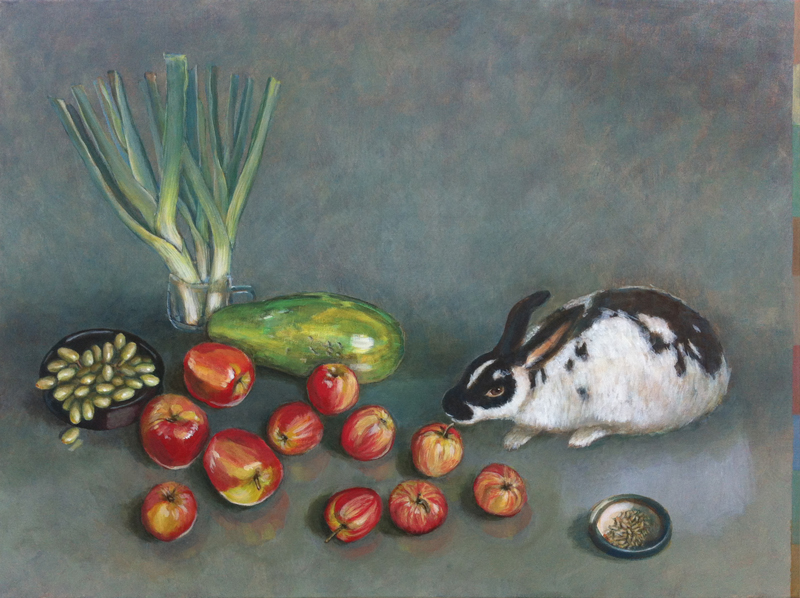 Still life with Papaya and Rabbit, acrylic on canvas, 30"x40"x2"