Hello!
It was a fun art season despite it being mostly virtual. Welcome to my new collectors from the show at JCO's ArtHaus in Los Gatos...please check them out...they are almost like being outdoors.
I will again be included in the University of Berkeley Earth Action Initiative art show and the Lyme Light Dart for Art auction. I am showing still life paintings through May at the Goodman2 Art Center, with painters Sofia Carmi and Anaheeda Arslanian. We are planning a virtual opening, but I can show by appointment.
Thanks to everyone who came to our virtual events at the Shipyard and elsewhere. I can zoom with you anytime, can host you at my studio for private appointments and can bring paintings to you to see how they work in your space. I even sold a landscape out of the car at a BART station which felt somewhat illicit but fun to get out. (And I painted a landscape of Mt. Diablo while I was there.) And if you would like it, I am always happy to do portraits of you, your family and your pets.
In the studio, I am working on a figure painting (!) which I am super excited about, and trying to finish others at home. A neighbor gave me two huge bags stuffed with beautiful stuffed animals. (After I paint some of them, I'll be passing them on to needy children.)
>>Click here for directions to the studio: Building 101, Studio 1223. GPS: 451 Galvez Avenue, San Francisco.
I've created political cartoons since 2016. Follow me on >>Facebook, Twitter, Instagram, or view cartoons at the >>Laugh About It web site. I released the collection as a book, because of the quantity of drawings, but I'm still drawing daily and Volume 2 will follow at some point. Read the book at my studio or buy at any bookseller and amazon.
Carolyn Crampton
San Francisco
crampton@cramptonarts.com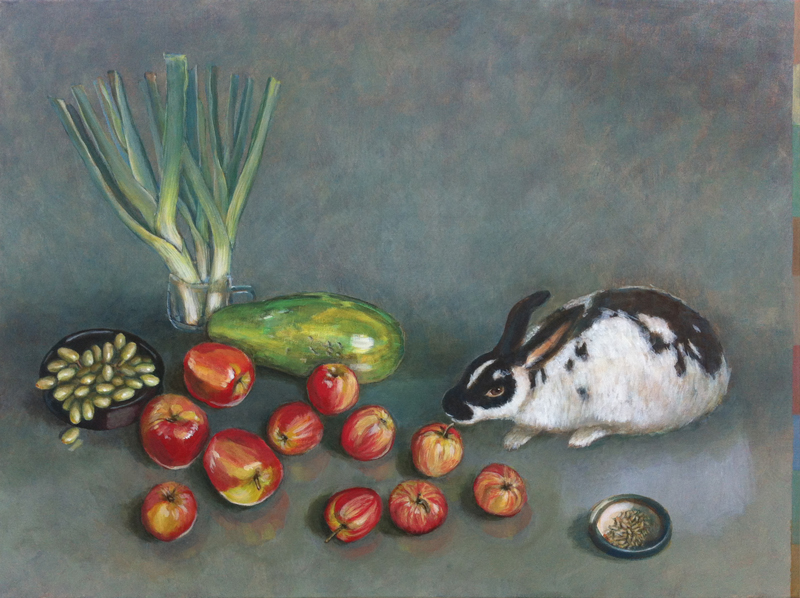 Still life with Papaya and Rabbit, acrylic on canvas, 30"x40"x2"