Music
Over the years, I have written songs, sung (backing vocals or just with friends) and played guitar in punk or post-punk rock bands. Songwriting is conceptual; it's about distilling an idea down to a kernel. Painting can be a lonely art so it's really fun to create with other people.

The Insufferables (San Francisco 2009–present)
The Insufferables are an alternative rock band that I helped found and wrote songs and played guitar with for twelve years. The band rehearses at Hunters Point in the concrete wing. We recorded "Argument Clinic" at Tiny Telephone Studios in San Francisco with producer Beau Sorenson. Listen or purchase at Bandcamp, Soundcloud, or on Youtube (links below). Previously The Insufferables released two earlier EP's "Edge of Control" and "Fire Bad!". Members included: Keith McNamara, vocals, Gene Michal, lead guitar, Ram Fenster, bass and vocals, Kevin Anderson, on drums, and Crampton, rhythm guitar and vocals, shipyard artists Kathleen McNamara on bass, Paula Clark on guitar and vocals, drummers Melissa Kim and DK Palmgren.
Also on Spotify and many other music services.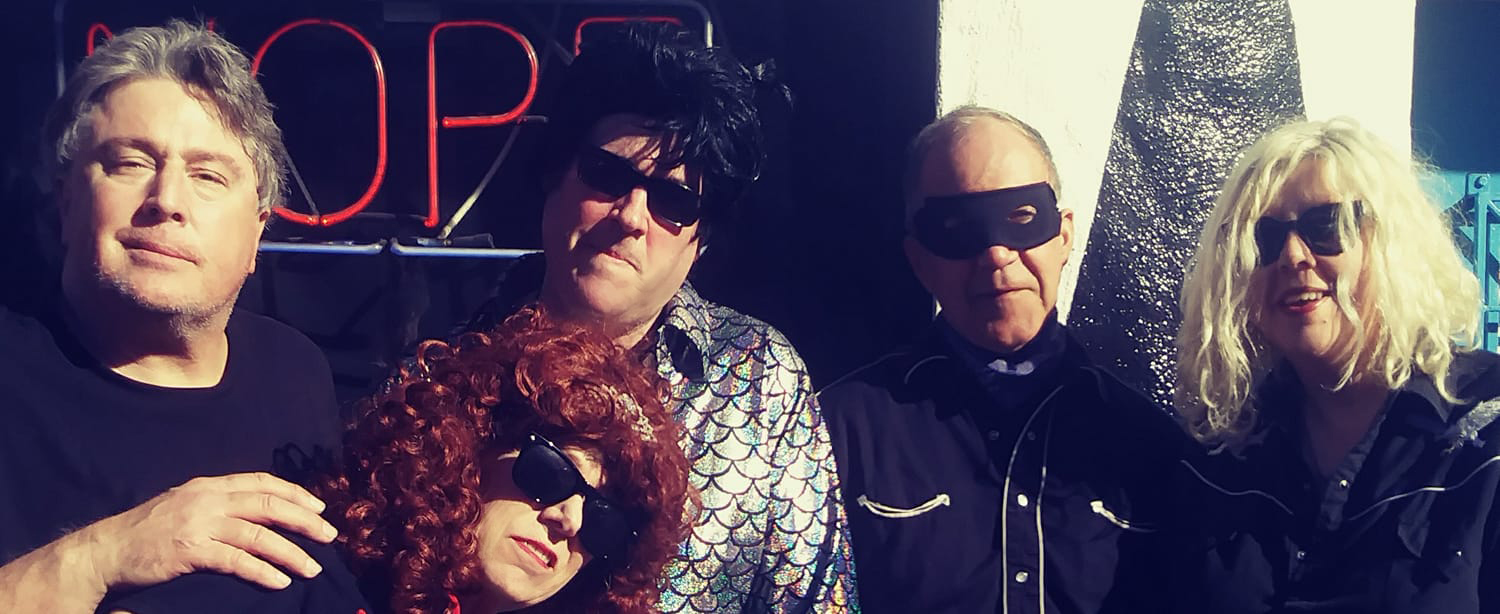 The Cramp-ons (San Francisco, 2014-present)
A tribute band to The Cramps, the great psychobilly band with a famous woman guitarist, Poison Ivy. I play rhythm guitar, wear a red wig to look like Ivy, and scream occasionally. Other players are Keith MacNamara, vocals, Gene Michal, guitar, and Heather Dammit, bass.
>> Live recording on Soundcloud

The Varve (San Francisco / Colorado 1979-1985)
An all-girl post-punk rock band, first started in Colorado by Sue Digby Penwarden from The Profalactics, bass, Jo Ann Gogue Sieger from Denver's The Guys, singer, and me on guitar. The band added Ann Brent on drums and Kelli Kozak on keyboards. After the band moved to San Francisco in 1980, drummer Kat Zumbach (The Urge, Baby Buddha) joined the band.
We gigged all around the bay area (Fab Mab, iBeam, Sound of Music, Tool & Die, Berkeley Square, Stone, Keystone, Barrington Hall, etc.), Los Angeles, Santa Cruz (Catalyst), Sacramento, and made a tour back to Colorado (Mercury, Boulder Theatre). Memorable gigs: an outdoor hot tub party above Fort Collins, a mental health facility near Denver, opening for Translator at the Stud on two differant occasions, opening for Flipper at the Roxie Theatre, our fancy tour to LA. We recorded two EPs, were featured on "Live at le Disque" and on San Francisco's public TV station.
>> Photos and posters on Facebook
>> Colorado Punk Rock complete
>> The Varve EP recordings online

The Profalactics (Boulder, Colorado 1978-79)
I started this all-girl punk rock band that played around the Boulder/Denver area (Malfunction Junction, Not New Wave News, Naropa benefits) as well as live on KGNU public radio. We rehearsed in the University of Colorado student union and in a room under the football stadium. I wrote songs, played rhythm guitar and sang backup.
>> lots of photos and posters on Facebook
>> Compilation LP featuring a lot of bands including Biafra and a huge booklet and a cd
>> a recording of the Profalactics
The Teflon (Boulder, Colorado 1977)
I played bass in this three-person punk band that never played a live show. We rehearsed in the basement of Discount Records on the hill.